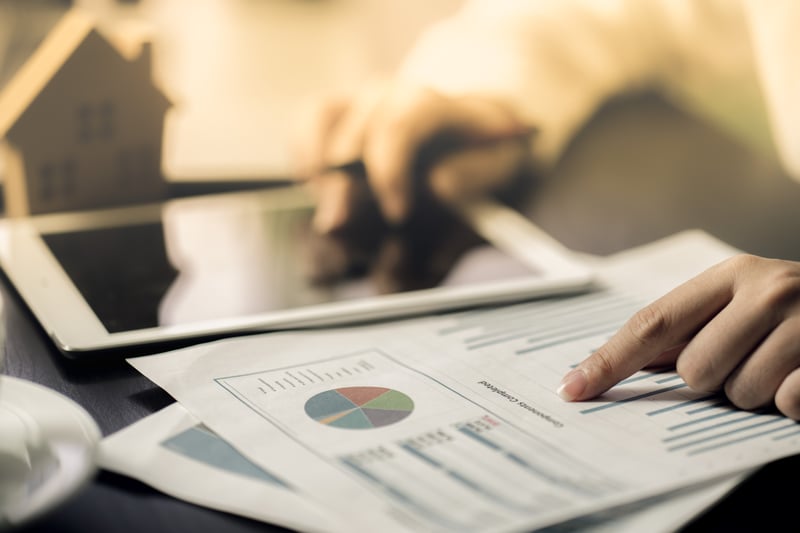 Leaders in healthcare marketing are continuously altering marketing strategies based on evolving trends, emerging technology, and, most importantly, results. So, when the time comes to choose between sticking with tried-and-true traditional marketing efforts or experimenting with uncharted digital territory, the question must be asked: which will provide the most return?

In the competitive healthcare industry, savvy consumers expect businesses to adapt to meet their needs. The ebb and flow of marketing trends is what ultimately drives change for the benefit of the consumer. Health and medical businesses also stand to benefit, as new trends encourage us to look toward the future. In today's digital age, we're able to track effectiveness through inbound marketing campaigns aimed at helping customers find you when they need you. New tools enable us to grow a business by converting leads and proving ROI. As businesses continue to put money behind the trends driving the most tangible results, digital marketing budgets have only increased year-over-year.
These contemporary trends are undisputed influencers in shaping the healthcare market, but they can also be valuable learning lessons, teaching us that the 'next big thing' may not always drive the results we want or expect. In fact, the key to better results may lie in the methods of the past, not the future.
So how do more traditional methods factor into competitive marketing strategies? We don't talk about direct mail or print marketing anymore, but they're very much alive. These are examples of "outbound marketing," which refers to any kind of marketing where a company initiates the conversation and sends its message out to an audience. At one point in time, 90% of marketing budgets were spent on outbound marketing initiatives.
The transition from outbound to inbound marketing is thanks in large part to emerging digital platforms. Businesses found efforts like email and content marketing to be cheaper, easier to track ROI, and overall more efficient. But is this transition the way to go for healthcare marketers?
Highly regulated and often considered slow to adapt, the healthcare industry invests in traditional marketing at higher rates than other industries. While their investment in digital may be slower, this has actually created an opportunity for healthcare marketers. With less brands participating in traditional marketing efforts, it's been easier for health and medical companies to stand out from the crowd. And because they've been honing these outreach skills for years, those with a unique, tailored approach to traditional advertising mediums find it an invaluable tool for building brand awareness, growing brand loyalty, and inspiring customer action.
Traditional marketing campaigns are very profitable for the healthcare industry. Print marketing, for example, has not only held its own in this digital age, but it has actually increased its position over the years as more brands shift their attention to digital media. The print marketing response rate surged by 190% with 43% more customers responding to direct mail than email. When used effectively, physical engagement with a print marketing item has been shown to increase customer recall and information retention. And while email marketing is a highly-effective tool for engaging with customers, research indicates that 98% of consumers sort through direct mail (compared to the mere 20% who, on average, open emails from brands).
As a healthcare marketing firm, Quaintise has worked with clients in the healthcare, medical, wellness, and life sciences industries, advancing their marketing and brand positioning to achieve their business goals. Our marketing strategy includes recognizing strategic opportunities for growth that help support business initiatives. We have seen the numerous benefits of print in the healthcare industry, which is why our approach for many clients involves creating a modern, multi-channel marketing strategy.
Here are 3 of our favorite ways we've modernized traditional healthcare marketing efforts for unsurpassed cross-platform experiences:
1. UCLA Health Donor Outreach
Not all print marketing efforts are utilized for B2C customer outreach. Together with UCLA's Institute for Precision Health, we created a unique approach to genomics marketing that utilized print materials to support the school's donor outreach efforts.
Launched in 2017, the Institute's mission is to revolutionize the healthcare industry with their genetic and genomic medicine initiatives. To turn their vision into a reality, it was necessary to create life sciences marketing materials to spread awareness, both internally amongst UCLA staff and students and externally through donor outreach.
Powerful imagery, compelling infographics and emotional storytelling came together to create a brochure that showed how funding would go toward improving the lives of many by delivering the right treatment, to the right patient, every time. Using the brochure to build trust, establish authority, and disseminate information, UCLA can receive the financial aid to help set up the necessary processes and infrastructure to bring genomic medicine into the clinical realm.
2. Cross-Platform Direct Mail Outreach that Drives Digital Conversions
There's a lot of talk about transferring your marketing from traditional outbound marketing efforts to digital inbound marketing efforts. While this makes sense for some industries, it's important to remember how outbound works with inbound. We demonstrated this recently with a campaign that utilized direct mail, driving new leads to a digital site that then converted them to registered users.
Utilizing an expansive user database, we first focused our attention on the website to ensure critical landing pages were set up for optimal conversions. Next, we created a series of outreach efforts aimed to engage current website registrants and lead them through the mid-funnel phases that ultimately lead to program purchases. To complete the cycle, we implemented an outbound campaign with a direct mail brochure that targeted one of the brand's highest-converting target personas.
With new visitors exploring and existing users revisiting the newly redesigned website, our tailored digital and print marketing content helped support the customer journey at every stage of the cycle.
3. Brand Strategy that Connects Online and Offline Experiences
With the cost of acquiring new customers online increasing, having an omni-channel marketing and brand strategy is more important than ever. Medical practices and healthcare clinics who are traditionally brick-and-mortar have an edge on digitally-native businesses. Since the logistics of having a physical location have already been handled, health and medical businesses can focus on building a cohesive brand presence that bridges offline and online marketing and branding initiatives, ensuring your audience is comfortable interacting both on- and offline.
Recognizing the importance of a carefully crafted "clicks-to-bricks" strategy, we worked with an Intravenous therapy clinic to create a seamless brand aesthetic across its digital platforms and physical locations. Since most people do brand research on the internet before engaging in business, we helped build a presence on- and offline that represented the company's brand value. The clinic's vibrant and polished online presence now prepares future clients for what to expect when they step into the actual facility.
To help drive patient acquisition, we set up a hyper-local brand awareness campaign based on paid social ads. These ads drove people to a landing page where they shared their information in return for an offer. Fonts, images, colors and copy were consistent between marketing mediums, from social ads to the landing page to the physical clinic locations. The offer not only helped build the clinic's contact database for future marketing efforts, but it helped drive new business.
Businesses continue to invest heavily in digital – and with good reason – but that's not to say older, more traditional marketing efforts are dead. Traditional marketing efforts should be utilized when it offers superior marketing solutions. In the world of healthcare, things like print and advertising campaigns have been tried, tested, and optimized through the years. And as more businesses continue to shift their traditional marketing efforts to digital marketing efforts, the health and medical industry is poised to take over the now less-crowded space. Healthcare marketers can take advantage of this opportunity by employing the methods and strategies mentioned above to ensure an optimized experience (and an effective campaign) all around.
If you're struggling with bringing your marketing into the digital age, or if you want to brainstorm how to improve your current marketing efforts, contact us today.