The days of optimizing your marketing efforts strictly for Google, Yahoo and Bing are over. In today's health care marketing environment, it's all about visual marketing, and you better be good. According to this year's Social Media Marketing Industry Report conducted by Social Media Examiner, the future of marketing is visual, at least according to the 3,000 marketers who were surveyed for the report.

In fact, the days of optimizing strictly for Facebook and Twitter are wavering as well, as mediums like Pinterest and Instagram are becoming increasingly popular. If your visual marketing images are not pinnable, engaging, shareable, and provoking, you will quickly fall behind in the health care marketing game.
With Experience Comes Knowledge
The single most interesting aspect of visual marketing as mentioned in the Social Media Marketing Industry Report is the stats showing that marketers with longer experience in the industry rate the importance of visual networks higher than their less experienced colleagues.
According to FastCompany.com, this data suggest that younger marketers initially turn to the more obvious choices like Facebook and Twitter, but over time are discovering value in a wider range of social networks, with a distinct move toward more visually focused platforms.
How To Make Your Images Stand Out
While many physicians assume that visual mediums such as Pinterest and Instagram are more for consumer products such as fashion and clothing, foods and parent products, the reality of visual marketing is how perfect these mediums are for health care marketing. The health care industry has enormous opportunity with visual marketing, from infographics to inspirational quotes and stories, to shocking and thought provoking images.
The Cleveland Clinic utilizes every form of social media marketing available, with complete perfection. In this case, we're looking at their Pinterest Page, with 30 Boards and over 7,500 Pinterest Followers.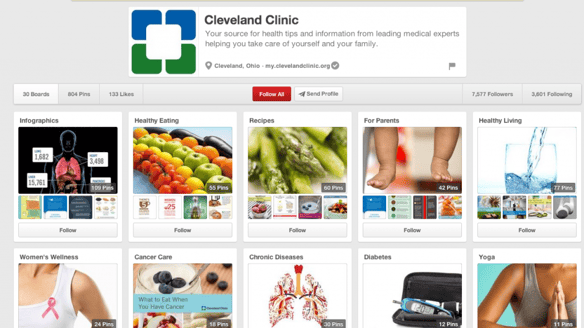 Take a look at how engaging their images are. Each one is optimized for not only keywords, but with hashtags and redirects to website blogs.
Some of them are short and sweet, directly to the point: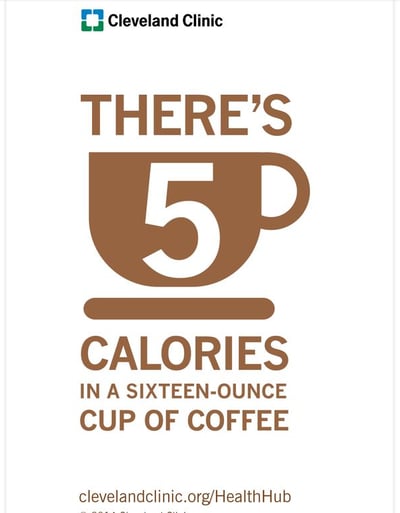 While others are far more in-depth and thought provoking: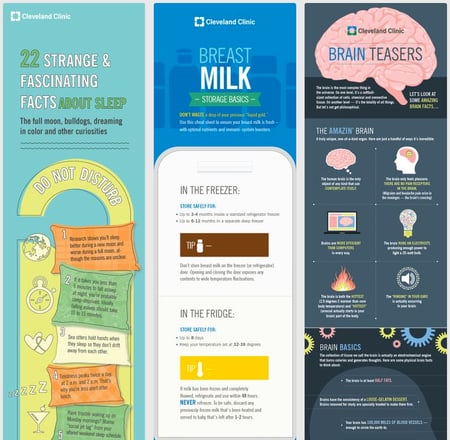 What you can do to connect with your audience visually:
1. A Good Story
A good story will connect with anyone, especially in health care. A good story in health care can be about a patient's remarkable recovery, a non-profit that your physicians are involved with, or perhaps the story of an interesting convention that touched on key points of patient satisfaction.
A good story can be told with a single, emotional, captivating picture, an entire album or storybook, or slide show. According to ROI Research, if content includes images, people are 44% more likely to engage with it, so utilize a great image when telling a great story.
2. Real-Time Visual Marketing
In the world of marketing, we will never forget the amazing quick thinking done by Oreo during the 'lights out' at the Super Bowl in 2013. If you were on Facebook during the game, you probably noticed their remarkable real-time visual marketing with a simple image, an Oreo in the dark, and the phrase "you can still dunk in the dark." It was genius, and one of the best examples of real-time visual marketing.
How can your staff and your physicians take advantage of real-time visual marketing? Keep an eye on trends, immediate events that are unexpected, and planned events where you and your staff can create a campaign around an event in real-time. Then, utilize images that speak to the audience and are highly relevant to what is happening that very second.
3. Overlays and Quotes
Quotes have been a big draw, increasing engagement for quite some time now. It's not a 'trend, that will fade away, as many other interesting visual marketing trends have. Text overlays with quotes are always a wonderful go-to when utilizing visual marketing.
The background images for text overlay marketing doesn't have to be complicated, but simple and almost elementary. As long as you have a great quote to go with it, you will connect with your target audience.
Visual marketing in health care is not only the future; it's here right now. If you're not capitalizing on this amazing opportunity, talk to the professionals at Quaintise today.