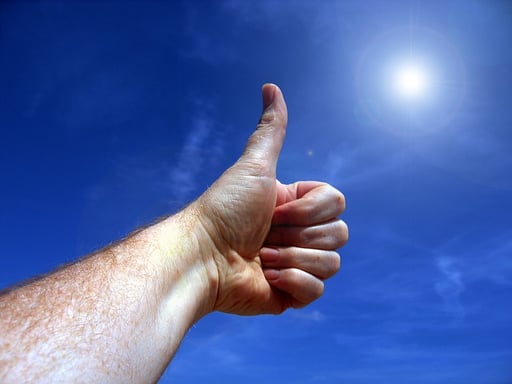 The greatest fear that keeps physicians from improving their digital presence, mainly in the form of increased reviews, is that a patient will leave a scathing review. Physicians are terrified that a patient will leave a 1-star testimonial, thus tarnishing that physician's online reputation.
It's a well-founded fear, especially since 70% of consumer trust online reviews and 60% cite reviews as the top deciding factor when choosing a new doctor online, according to Avva.com.
But it's also important to note that 75% of respondents in a recent ZocDoc survey said that one negative review doesn't hurt provider reputations online. In fact, whether negative or positive, ZocDoc found that more reviews always equates to more appointments. It's that simple.

Why Aren't More Physicians Improving Their Online Reputation?
Physicians are highly sensitive about their reputation, and rightly so. A physician is only as good as his patients claim him to be, no matter how many awards he/she has, or how much experience he or she has. The healthcare industry is complicated, and it's nearly impossible to keep everyone happy, and you will end up with at least one bad review. If you're in an industry such as pain management, you will receive more than one bad review, no matter how amazing you and your staff is. It's just the nature of the beast.
How To Respond to Negative Reviews
Fear stifles our thinking and actions. It creates indecisiveness that results in stagnation. I have known talented people who procrastinate indefinitely rather than risk failure. Lost opportunities cause erosion of confidence, and the downward spiral begins. - Charles Stanley
Don't let fear hold you back from pushing your practice to greatness. Before I came to run social media at Quaintise, I worked for a very large pain management center that dealt with thousands of patients who were depressed, down-hearted, and in daily, chronic pain. They wanted answers and relief, and many times they wanted it quicker then the physicians could make it happen.
We became experts at responding to negative reviews out of necessity. Here's what we did:
1. Every Review is an Opportunity: Whether it's on Yelp, Healthgrades or Google+, every review is an opportunity. Remember this one thing, and you'll see reviews in a whole new light. Whether it's a poor review or a positive patient review, it's an opportunity to gain valuable feedback for yourself and your staff, to gain a new brand advocate, and to show potential new patients who are reading the review just how transparent and compassionate your team it.
2. Respond to Every Review: Responding to reviews can be tricky in the healthcare field because you are not allowed to give away personal health information. So, there are two ways in which you can respond, publicly and privately, and we advise that you to both.
Respond Publicly – Make yourself transparent and available. Even if all you say is that you are humbly sorry and will do your best to alleviate the situation, that is good enough to show that you are listening and will work to fix the problem. Potential new patients who are researching your practice will see the response and think better of you for it.
The best part about responding publicly on forums such as Yelp, Facebook and Google+ is it gives your happy patients and brand advocates a head-start, a sounding board to offer defense of your awesome services.
Respond Privately – Do your best to reach out to the patient and fix the problem. No matter who is at fault, do your best to show the deepest sincerity, compassion and empathy. This might be the toughest part of your job, but it is part of your job in 2014 if you wish to grow your patient base.
If done properly, in my experience at least, patients will edit their original review and improve your star rating, and these are THE BEST types of reviews. When you can turn a negative review into a positive one it shows your commitment to your patients and your determination to make things right for those patients.
3. Reporting Reviews: Lastly, nearly every review across every review channel, including Yelp, can be removed by the review website. It might be tedious, frustrating, and time-consuming, but if a review is left that is blatantly untrue and you have the proof to show it's untrue, or the review is obviously fake, you can contact the review website and ask for that review to be removed.
I know what you're thinking, "No you can't. Yelp won't remove negative reviews but will remove positive ones." We've heard that complaint a thousand times, and the truth of the matter is review websites like Yelp and Google+ have a filter system that works on poor reviews as well as positive reviews. The bottom line is that no matter what, you can work your tail off and get that negative review removed.
The moral of this story: give the best service that you possibly can, and positive reviews will fall into place. If a negative review lands in your lap, see it as an opportunity to show your true colors.
Need help? Give Quaintise a call.