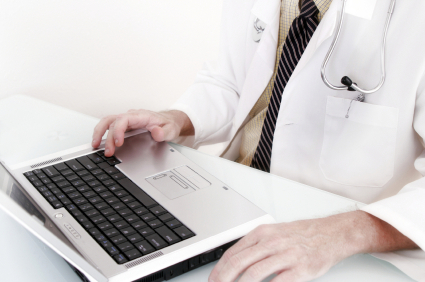 Nearly 85% of doctors say they proactively check online reviews about themselves, according to a survey by the online physician appointment booking website ZocDoc, Modern Healthcare's "Vital Signs" reports.
In addition to monitoring reviews about themselves, 36% of doctors said they track their competitors' reviews.
The study also found that:
62% of doctors said the online reviews were "fair;"
23% said they were "very fair;" and
15% said they were unfair (Bowman, FierceHealthIT, 10/11).

When it comes to healthcare marketing, your online reputation is paramount. You can have the first Google position for every local medical term in the dictionary, but if you're online reviews show 2 stars in the search engine results you will not only lose potential new patients, you will lose the word of mouth patients that new potential patient would have brought.
In fact, according to Convergys, one single negative review can cost you 30 customers and 80% of consumers will change their mind about a brand after reading a single bad review. VentureBeat reported that only 2% of consumers are likely to use a business with no reviews or ratings, as compared to companies with positive reviews who can convert 183% more new business then companies with negative or no reviews.
The numbers are staggering when you truly dig in and determine how important online physician reviews are.
Healthgrades vs Yelp
In a recent report from SoftwareAdvice.com, 4,515 patients were surveyed to determine exactly how they use online reputation and review to select their family physician. According to those numbers, Yelp is the most used online review resource, but Healthgrades is the most trusted when it comes to selecting a physician.
First Step
The report goes on to say that 62% of respondents surveyed use online reviews as a first step to finding a new doctor! This is an amazing key point to take notice of. If 62% of patients use online reviews as a first step, how important do you think having a strong online reputation is? It's imperative!
Quality of Care
In the survey, 45% of patients use online reviews to seek out quality of care information over patient rating scores, wait times, demographics and photos of the practice. Let's think about that for a moment: potential new patients care more about how the doctor treats the patients then how long they'll have to wait.
Only 25% of respondents selected wait times as the most important information gathered from online reviews, while 45% said that quality of care was the most important piece of information gathered from online reviews. Make every patient count and your business will reap the benefits!
Out-of-Network
Taking all of these key points into consideration, the most astonishing statistic reported from this survey is that over a quarter of insured patients are willing to visit a doctor outside of their insurance network if that doctor's reviews are higher than those of an in-network doctor!
Who Leaves Reviews
Finally, and most importantly, only 10% of patients actually leave reviews for their physicians online. That is a painfully small number for such an important aspect of healthcare marketing.
Get Reviews!
The moral of this story: get online reviews and get them now! Need help? Let the professionals at Quaintise give you a hand.
"Report from SoftwareAdvice.com."