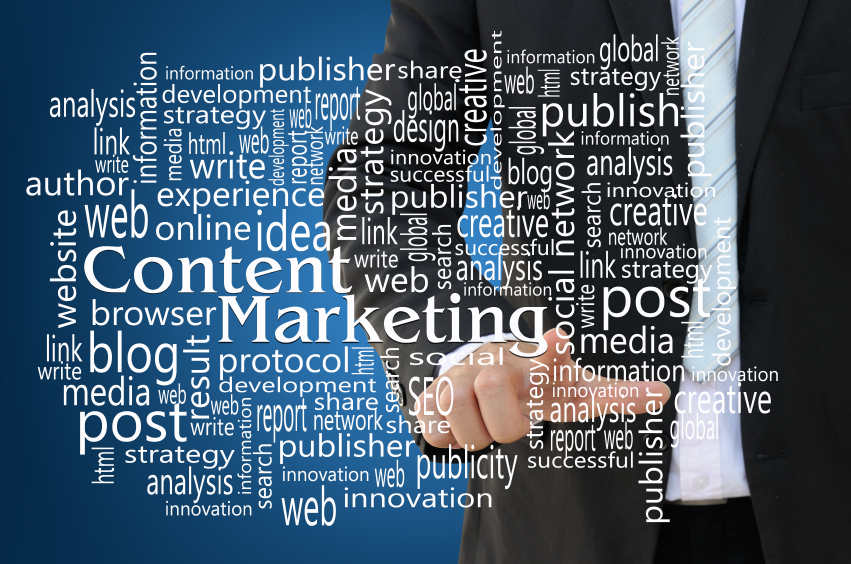 People go to the Internet for information. Healthcare information is no exception. Seventy-two percent of Internet users reported looking online for health information, according to a September 2012 survey by the Pew Research Center. For the most part, people searched online for information about specific diseases or conditions, treatments or procedures, and doctors or other health professionals. The survey found that 77% of people began their search with a search engine like Google, Yahoo, or Bing.
There is a huge opportunity for healthcare organizations to increase their reach and strengthen brand awareness by offering valuable medical information to consumers. Not only will this content help meet the needs of target audiences but it will also help position the organization as a trusted source of healthcare information and services. So what exactly is content marketing? Content marketing is a vehicle to create and distribute valuable, relevant information to a clearly defined audience. Types of content marketing include blog posts, e-mail, newsletters, webinars, videos, and podcasts.
The Pros and Cons of Healthcare Content Marketing
Healthcare marketers should use content marketing to position their healthcare organization as leaders in the industry—whether they are a hospital, physician group, nursing home, or consultant. Publishing content about your organization's services on a consistent basis will build credibility for your brand on the Internet. Consumers are more likely to trust or view a healthcare provider as an expert if he or she has published 50 newsletters on the best ways to treat chronic obstructive pulmonary disease (COPD) than a provider who has one blog post on the subject.
Content marketing can also boost website search results—especially if you tailor your content to specific areas of expertise. For example, if your hospital has an outstanding pediatric cardiovascular program or a cutting-edge robotics program; or your physician group provides expansive geriatric services or an international travel vaccine clinic; or your behavioral health clinic focuses on helping veterans or patients with eating disorders, those are the types of topics you should center your content marketing around because it will connect your organization with people in need of those specific services. As an added bonus, content marketing may establish your website as a destination for healthcare information.
One of the biggest challenges of an effective content marketing strategy is time. It takes time to create quality content on a consistent basis. Many healthcare organizations struggle to develop enough content to be effective. There is also a learning curve to develop the type of content that will resonate with patients or consumers and showcase your organization's expertise. For instance, writing for a website is very different than writing for a medical journal. Consumers may prefer content on wellness and nutrition versus information about a new neurosurgical procedure. Healthcare organizations will need to provide a mix of content that appeals to consumers while also highlighting their services. Content marketing needs time to gain momentum. A physician group is not going to suddenly receive 100 new patients the day after launching a blog or newsletter.The results may not be immediate, but if you stick with your content marketing strategy, there will be a return on your investment.
Build an Effective Content Marketing Strategy
Content marketing is gaining traction in the healthcare industry as more and more healthcare executives see its value as a measurable, scalable, and affordable marketing strategy.To build a successful healthcare content marketing program, organizations should follow these five basic principles.
Establish your goals. The first thing that your healthcare marketing agency or in-house marketing staff should do is define the goals of your content marketing strategy. What do you hope to accomplish with content marketing? Launching a blog as part of a content marketing campaign without defining your goals will just end up being a waste of time. You need to have a clear vision of the end game. Are you trying to get new patients, keep existing patients, help existing patients stay healthy, increase brand awareness? It is crucial to set goals and build your marketing strategy around those goals.For example, The Cleveland Clinic wanted to increase its national brand awareness. Its strategy was to be useful and relevant for people everyday whether they were patients or not. To accomplish that goal, it launched its Health Essentials blog, which focuses on what people want to know to live healthier rather than focusing on all of the services that The Cleveland Clinic provides. The blog has more than 3.2 million visits per month and The Cleveland Clinic is now a destination that people go to for health information.

The Cleveland Clinic Health Essentials blog provides advice for healthy living.

Align consumer's needs with key services. For any content marketing campaign to be successful, you must identify your target audience. It is crucial to know what types of information, materials, or services your target audience wants and needs.Once you have identified your target audience, choose what topics or services you should highlight to have the biggest impact with your audience.For example, the Floating Hospital for Children at Tufts Medical Center in Massachusetts launched the Circle of Moms community and blog in order to support mom's with children who are patients at the hospital. The website includes links to blog posts, community events, true stories, and videos that introduce the hospital's specialists.

The Floating Hospital for Children supports moms with its Circle of Moms blog.

Develop an editorial plan to create enough content. One of the biggest mistakes healthcare organization's make is launching a blog or webinar series that idly sits for months at a time. It is important to develop a monthly editorial calendar to ensure you are developing enough content and that the materials meet the needs of your target audience.If your content relies on physicians or nurses to share their expertise, the calendar can also assign a topic to a specific clinician so he or she has time to create the content. This will spread the workload so the program is easier to maintain.NYU Langone Medical Center recognized that the majority of their patients look online for health information, so it launched Doctor Radio to answer patient questions on a variety of topics ranging from men's health to healthy aging to child psychology to sports medicine. The show has a weekly schedule of topics so physicians can incorporate this commitment into their schedules. Patients can either call, e-mail or tweet their questions.

NYU Langone Medical Center's Doctor Radio has a weekly lineup of doctors to answer patient questions.

It is important to repurpose all of the content you have developed as well. Make sure that an article written for a newsletter is also indexed on your website or include links to podcasts and other materials that have been developed at the bottom of a blog post on a similar subject. This may mean re-evaluating your website to ensure that it meets the needs of your content marketing strategy. Having great content that is posted once and then gets lost on your website means that you will have to keep creating new content rather than building on content you have already developed.

Create a call-to-action in your content marketing strategy. Content marketing campaign scan position healthcare organization or staff as experts and draw in loyal followers. However, organizations also need a way to transition those followers into patients or clients. When people access your content, what do you want them to do? It is important to link your content to the various types of services that your organization provides. Healthcare organizations should determine how they want to reach out to this group of potential patients or clients. Will you use targeted e-mails or a simple phone call? Depending on your strategy, you will need to build in a way to capture e-mail addresses or a call-to-action in your content marketing materials.One of Mayo Clinic's most successful content marketing campaigns is Sharing Mayo Clinic. The website is a place for patients, families and staff to share their stories or experiences. These real patient stories share hope and inspiration. They also help increase brand awareness of Mayo Clinic's expertise in treating a wide variety of medical conditions ranging from heart disease to kidney transplants to eye surgery. The site includes a right navigation bar with multiple calls to action. There is a link to share your patient story and a phone number with office hours to call and make an appointment. People can also search the site by health category and there are links to Mayo Clinics research and news releases.

The Sharing Mayo Clinic website offers hope and connects patients to services.

Invest in technology. As with any marketing campaign, it is important to track the effectiveness of content marketing in meeting the organizations overall goals. There are a variety of analytics that healthcare marketers will want to measure to determine the effectiveness of content marketing including where are people going on the website, how long did they stay on the page, and what topics drew the most hits. Technology can help provide insights into your audience's behavior on your website. For example, you can examine individual viewers of your content, which means you can share more relevant content with targeted audiences in an effort to increase their likelihood of using your services.
Today, many healthcare organizations are creating content to gain people's attention and increase brand awareness. Some of the most successful organizations have developed consumer-focused content that offers expert advice and shares real-life experiences. The key is to create content that people need, that resonateson a personal level, and that supports your brand strategy.