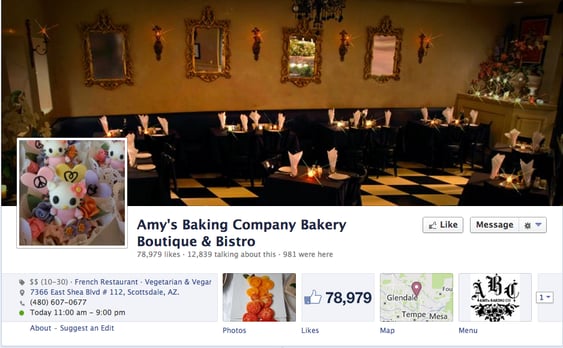 I didn't necessarily want to write about this 'epic' failure, simply because if you are online and you haven't heard about it, you've probably been living under a rock. Amy's Baking Company Bakery Boutique & Bistro, located right here in Scottsdale, Arizona, has been all over not only local news, but also national news as well with their Facebook fiasco. Being that we are in healthcare marketing, and from the same city where this debacle took place, I had to post something.
Amy's Baking Company Bakery Boutique & Bistro
Right here in downtown Scottsdale is Amy's Baking Company Bakery Boutique & Bistro, a small bakery/boutique that, until recently, was fairly unknown unless you had visited their location. However, that all took a turn for the worse when Amy's Baking Company was offered the spotlight on Gordon Ramsey's Kitchen Nightmares. Whether you are a fan of the show or not, the drama exploded and Chef Ramsey refused to work with Amy and Samy, and the show ended in high entertainment fashion.

To make a long story short, Fans and bystanders flocked to Amy's Facebook and Yelp pages, leaving scathing reviews and comments. Amy and Samy returned fire with relentless rants, blaming each and every individual for corruption and a plot against them and their Scottsdale bakery. Currently, Amy's Bakery is in full reputation management mode with a newly hired PR firm and rebranding effort.
Physicians: Teachable Moment
As a physician, you treat hundreds, if not thousands of patients with the ultimate goal of providing quality service, diagnosis and treatment. You just want to make people feel better. However, because you can't please everyone, occasionally you will receive a poor review on Yelp or a scathing comment on Facebook. It's inevitable. What is not inevitable, however, is the manner in which you handle this poor comment, or comments.
Do not do what Amy and Samy did!
Do Not respond in anger! If you feel the rise of disgust, walk away from the computer and take a moment to collect your thoughts.
Do Not call your patients, Yelper and Facebook Fans 'punks!' In fact, don't use any harsh tone or reckless name-calling. You are a professional, and you represent your entire brand image. What you do on your personal, private Facebook page is your business, but Do Not transfer these emotions to your business brand.
Do Not repeatedly post negativity! This doesn't just go for those moments when you feel attacked, it goes for every single moment that you are utilizing Facebook for healthcare marketing. Posts should be informative, educational, fun and positive on all levels!
Do Not yell at your Facebook Fans with caps locked! Never, under any circumstances reply to a comment or poor review in caps locked. Even if it happened on accident, even if you were responding from your phone and didn't realize the caps were locked, edit that response and fix it immediately.
Do Not refer to religion! Unless you are a religious organization or your business brand has a religious affiliation, do not bring religion into any discussion on your business Facebook page.
When handling poor reviews or a stream of inappropriate comments, remain calm.
Do respond immediately with sensitivity. The sooner that you can squelch the negativity, the better.
Do offer to fix the problem. As a physician, it is your responsibility to make your patients feel better. No matter what the situation, as horrible as this sounds, you need to fix it. I didn't understand this many years ago when I first got started in healthcare marketing because if a patient deserved poor treatment, it was justified in my eyes. However, if you want to utilize healthcare marketing on social networks successfully, you absolutely have to fix the patient problem, whatever it might be. You cannot have a negative review or poor comment available for everyone to see with no response.
Do respond with positivity. Be as positive and light-hearted as possible. Take blame if you need to, take responsibility, and own up to the problem.
Do respond with responsibility. Another one of the best ways to squelch an onslaught of poor reviews is to respond by taking responsibility for the problem.
Do apologize! I can't stress this enough. Sometimes an apology is all it takes.
Above all, remain humble in healthcare marketing when responding to poor reviews. Sometimes, the best medicine when dealing with poor reviews is to let an expert, a 3rd party who is not as emotionally connected with your business, to handle the situation. Quaintise is that 3rd party. Give us a call today!